Asclepias curassavica 'Orange Form' is currently on pre-order. Available: Apr 15, 2018
Pre-order this plant now and it will be shipped on the week you select when checking out. You can enter your email here to be notified when it becomes available. Just in time for your spring planting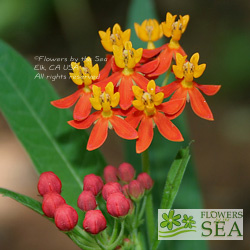 Mouse Over To Zoom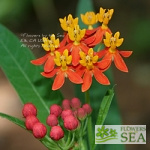 Common name

This is the non-scientific name used for a plant. A plant may have several common names, depending on the gardener's location. To further confuse the matter, a common name may be shared by several completely different plants. At Flowers by the Sea, we rely on the scientific name to identify our plants and avoid confusion.

Orange Bloodroot
USDA Zones

The U.S. Department of Agriculture plant hardiness zones indicate the temperature zones where a plant is likely to thrive. It is determined by the average annual winter minimum temperature. Actual winter temperatures may be higher or lower than the average.

8 -11
Size (h/w/fh)

The U.S. Department of Agriculture plant hardiness zones indicate the temperature zones where a plant is likely to thrive. It is determined by the average annual winter minimum temperature. Actual winter temperatures may be higher or lower than the average.

48"/36"/48"
Exposure

This is the average amount of sunlight that a plant needs to thrive. Generally, full sun exposure is 6 or more hours of direct sun daily while partial shade is less than 4 hours of sun or dappled shade all day. Plants may tolerate more sunlight in cooler climates and need afternoon shade in extremely hot climates.

Full sun
Soil type

This is the kind of soil that a plant needs to thrive. Most plants require a well-drained soil that allows the water to soak into the soil without becoming soggy. Sandy and clay soils can be improved by digging in compost to improve drainage.

Average
Water needs

Plants have specific water requirements. Water loving means the plant needs regular watering to keep the soil moist. Average generally indicates applying 1 inch of water per week, or watering when the soil is dry to a depth of 3 to 4 inches. One inch of water is equal to 5 gallons per square yard of soil surface.

Water loving
Pot size

This is the size of the pot your plant will arrive in.

3 1/2 inch deep pot
Container plant?

"Yes" indicates that this plant can be successfully grown as a container plant.

Yes
Hummingbird plant?
Yes
(Orange Bloodflower) Vivid orange and gold clusters of tiny, star-shaped flowers contrast handsomely with the dark green, lance-shaped leaves of Orange Bloodflower. Other common names include Tropical Milkweed and Mexican Butterfly Weed.
The last name tells you what a magnet this is for Lepidoptera . The endangered Monarch butterfly is particularly drawn to the milkweed family ( Asclepiadaceae), which includes Orange Bloodflower.
Monarchs lay their eggs on milkweeds, because those are the only plants their caterpillars will eat. The roughness of fuzzy milkweed foliage makes it easier for eggs and chrysalises to cling to the plants. Monarch caterpillars consume powerful chemicals in the leaves protecting them as babies and adults against predators for whom the chemicals are toxic. Perhaps it is these chemicals that make deer avoid the plant.
This particular milkweed is native to South America and is perennial in USDA zones where winter temperatures are warmer. In zones with colder winters, it works well as a bedding plant. When grown as an annual, Orange Bloodroot can be cut back in late autumn and moved indoors to overwinter. But don't forget to reduce watering and place it in a cool, but sunny location.
Although it is a water lover, Orange Bloodflower grows well with average watering based on local conditions. It is a good solution for sunny, damp areas of the yard.
Unlike Common Milkweed (Asclepias syriaca), this species doesn't have a taproot. This means that it is easier to control the plant's spread.
In the past few years, much has been written about the problems as well as the benefits that Tropical Milkweeds present for Monarch butterflies. Butterflies adore these lush bloomers, which offer plentiful nectar and provide what is becoming scarce -- lodging for Monarch larvae.
However, where these plants persist outdoors during winter, Monarchs may not complete their migration to Mexico. This creates a number of difficulties, including illness for the butterflies. The best way to avoid this problem in warm regions is to cut all types of Tropical Milkweed to the ground during autumn.
Please note: this is a seed grown strain and there is some variation in flower color from plant to plant.