Salvias in the Cemetery: Meet the Duelbergs
Oct 25, 2012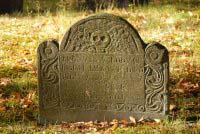 Meet the Duelbergs. You may be very pleased to make their acquaintance in your garden some day. They are reminders to tread carefully when visiting rural and small-town cemeteries, because the "weeds" you step on may be treasures disguised by the ravages of herbicides, weed whackers and drought.

Two of these treasures are Salvia farinacea 'Augusta Deulberg' and S. farinacea 'Henry Duelberg', which are known commonly as varieties of Mealy Cup Sage. They come from cuttings of tough plants that Texas conservationist and horticulturist Greg Grant discovered while wandering through a dry country graveyard halfway between Houston and Austin, Texas.

The plants covered the gravesite of Augusta Duelberg, who died in 1903 at the age of 46, and her husband, Henry L. Deulberg, who was 81 at death in 1935. Grant notes that the vigorous Duelberg sages self-seeded "into the cracks in the curbing, the dead grass, and onto nearby graves" in Cedar Cemetery, which was known as Lewis Cemetery when the Duelbergs were buried. The plant cuttings produced a blue-flowered (Henry) and a white (Augusta) variety of Mealy Cup Sage.

Beyond the Grave: Tough Survivors
Grant notes that along with rural cemeteries, poor locations without irrigation, such as highway verges, are his favorite hunting grounds for plants that thrive on benign neglect. He points out that they normally require little maintenance and no pesticides or herbicides, which is healthier for your back and the environment.

Mealycup Sage is native to Texas. However, the species has become so popular in Europe that many of its varieties are developed as bedding plants for mild climates and are not vigorous in conditions that regularly range from flash flooding to drought.

Grant knew that the plants he discovered on the Duelbergs' grave were tough survivors that might produce offspring more suited to the swings in temperature and water common in Texas. His motto, at least for gardeners in USDA plant hardiness zones 7 to 11, is "if the dead can grow it, you can too."

In fact, both the Henry Deulberg and Augusta Duelberg sages are now listed as Texas Superstars by Texas A&M University – an elite group of about 50 plants that are known for great beauty, long bloom times and hardy survival in extreme growing conditions.

Color from Spring through Autumn
Mealy Cup Sage is a woody perennial known for profuse blossoms from the last frost of Spring to the first frost of Fall. Its varieties may be upright or sprawling and grow from 12 to 36 inches tall. Mealy refers to the fuzzy hairs on the calyx, or cup, of each blossom.

Both the Augusta Duelberg and Henry Duelberg Sage are on the tall side, reaching up to 3 feet tall and spreading the same distance. Grant notes that their leaves have edges that are more indented than those of short Mealy Cup varieties and are also larger, greener and more fragrant.

The Duelbergs thrive in full sun, which ranges from about 6 to 14 hours of daily exposure. They also grow in partial shade. Similar to other native varieties of S. farinacea, they aren't picky about soil pH. They do fine in ground ranging from acidic to alkaline.

Although deer seldom bother them, the Augusta Duelberg and Henry Duelberg sages are hospitable magnets for hummingbirds, butterflies and bees.

Plant Explorers in Cemeteries
The National Wildlife Federation says that although wild animals are the poster children of the conservation movement, we need to remember that plant diversity is essential to maintaining a wide range of animal species.

We're all lucky when conservationists, whether professionals or amateurs, make plant discoveries in unexpected places, including cemeteries. NWF notes that rural cemeteries may offer surprises due to the habit pioneers had of leaving "swaths of prairie" untouched next to cemeteries in order to provide flowers for graves.

Conservationist Grant, who discovered the Duelberg sages, says he likes to think that one of the Duelbergs was a gardener interested in Salvia farinacea and that their families honored them through the old-fashioned practice of growing a favorite plant on their gravesite.
At FBTS, We like to think that what goes around, comes around. We'll be happy to deliver Grant's discovery to your doorstep.
Updated September 30, 2015
Plants mentioned in this article