Apr 15, 2010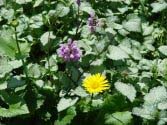 Please allow me to introduce myself. I am Kermit Carter, who along with my wife Vikki manage to manage Flowers by the Sea.
Look to this Blog as a place for information and opinions (actually,
lots
of opinions) about a wide range of topics. I anticipate that many of you may not agree with some of what I have to say. I have been in and around the Nursery buisness for over 40 years now, so expect me to be a stiff debater.
And expect a wide range of topics. Life is too short to be narrowly focused on just one family or genera of plants. We grow a wide variety of at least the following - with enthusiasm:
Salvias from all over the world

Cymbidiums
Clivia
Masdevallias
California native shade plants
Heuchera
South African bulbs
Restios
Windowed Haworthias
Echivarias
Gastarias
Hoyas
Australian Dendrobiums

Heuchera, Tiarella and Heucherella
Begonias
Hardy Sedums
Passiflora
Hebe
Odd, strange and unusual Grasses
Hostas
Helleborus
Acanthus
Primulas
and of course, more.
Stay tuned. A great post on Salvias coming soon.
And let us know what you would like to see from us.
Plants mentioned in this article