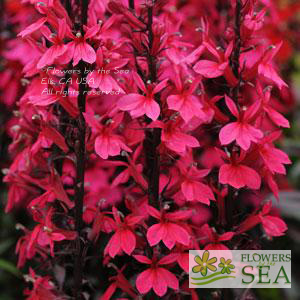 Mouse Over To Zoom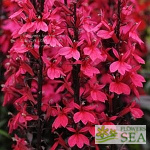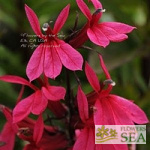 Common name

This is the non-scientific name used for a plant. A plant may have several common names, depending on the gardener's location. To further confuse the matter, a common name may be shared by several completely different plants. At Flowers by the Sea, we rely on the scientific name to identify our plants and avoid confusion.

Starship Deep Rose Cardinal Flower
USDA Zones

The U.S. Department of Agriculture plant hardiness zones indicate the temperature zones where a plant is likely to thrive. It is determined by the average annual winter minimum temperature. Actual winter temperatures may be higher or lower than the average.

6 - 10
Size (h/w/fh)

The U.S. Department of Agriculture plant hardiness zones indicate the temperature zones where a plant is likely to thrive. It is determined by the average annual winter minimum temperature. Actual winter temperatures may be higher or lower than the average.

20"/12"/20"
Exposure

This is the average amount of sunlight that a plant needs to thrive. Generally, full sun exposure is 6 or more hours of direct sun daily while partial shade is less than 4 hours of sun or dappled shade all day. Plants may tolerate more sunlight in cooler climates and need afternoon shade in extremely hot climates.

Full sun
Soil type

This is the kind of soil that a plant needs to thrive. Most plants require a well-drained soil that allows the water to soak into the soil without becoming soggy. Sandy and clay soils can be improved by digging in compost to improve drainage.

Rich
Water needs

Plants have specific water requirements. Water loving means the plant needs regular watering to keep the soil moist. Average generally indicates applying 1 inch of water per week, or watering when the soil is dry to a depth of 3 to 4 inches. One inch of water is equal to 5 gallons per square yard of soil surface.

Average
Pot size

This is the size of the pot your plant will arrive in.

3 1/2" deep pot
Container plant?

"Yes" indicates that this plant can be successfully grown as a container plant.

Yes
Hummingbird plant?
Yes
(Starship Deep Rose Cardinal Flower) What a great, long-blooming perennial! The bright pink flowers of Starship Deep Rose are plentiful and attract lots of buzz from butterflies and hummingbirds.

The unusually shaped tubular flowers of Starship Deep Rose Cardinal Flower are slit nearly to their base to form two lips. The bottom lip has three lobes; the top has two. The flower spikes are tipped with tiny, mid-green leaves and rise up vertically out of a a clumping, basal rosette of foliage.

This rewarding American native grows quickly, is easy to cultivate and tolerates both heat and cold. Although it does fine with average watering, it loves moisture and thrives in damp spots including locations near ponds and bogs.

Although it enjoys full sun, Starship Deep Rose still blooms like crazy when planted in partial shade. Try it in patio containers, borders and seasonal flowerbeds. It's especially ideal for woodland and native plant gardens.

The genus name Lobelia honors Flemish botanist Matthias de L'Obel (1538-1616) whose work focused on medicinal plants. Historically, some Lobelias have been used to treat asthma, baldness, depression, syphilis and withdrawal from smoking. Research continues about medical use of the genus. Please remember that no herbal substance should be consumed before consulting a physician.
This variety replaces the no longer avaliable Lobelia 'Monet Moment'