Quick Digs: Using the FBTS Wish List Gift Registry
Feb 5, 2014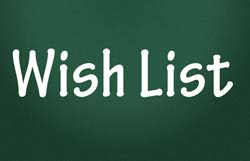 This is our third article in a Quick Digs series about preparing Salvia gardens for spring. The second article talked, in part, about drafting a wish list of Salvias (sages) and companion plants that you want for special projects or to fill empty spots in flowerbeds.
Often, it's difficult to know what to give a friend or family member for a birthday, holiday or other special day. Conversely, it also can be awkward to tell folks what kinds of gifts you would like to receive. Registries remove the guesswork while also allowing gift givers to surprise recipients.
Flowers by the Sea offers a Wish List registry that you can access each time you identify a sage or companion plant that would be just right for your garden. Here is how it works.
Registration and Login Form
First, you need to log in or register through our secure ecommerce connection. Otherwise, you won't be able to access the shopping cart and wish list functions of our website. By "secure," we mean that no one but you and FBTS can access your information.
The registration process is speedy. We ask you to
Identify your

USDA Cold Hardiness Zone

Select a "main area of interest" related to the plants we sell, such as Salvias, Plectranthus or everything
Provide a username and
Choose a password comprised of seven letters and numbers that don't include your username.
Now you are ready to use your Wish List.

Plant Selection
We don't print a catalog. Instead, our catalog is online -- a seamless part of our website, which offers a number of ways to access plant descriptions, such as
Typing the name of a favorite Salvia in our Search Window at the top of every page
Accessing queues of plants via the green Category Menu also at the top of every page Choosing from the Bestsellers List on the homepage or
Selecting one of the plants in the New Arrivals queue, once again, on the homepage.
Once you have opened a plant-description page, carefully read all the details to make sure that the plant fits your local growing conditions and is the right color, form and size for your garden.
Wish-List Button
At the bottom of the Details page for each plant description there is an options box containing Add to Cart and Add to Wishlist buttons unless the plant is out of stock. When you click on the wish-list button, you arrive at a page where your plant choice is listed. To the right of the listing, you are asked to indicate how many pots of the plant you would like to receive.
Another window asks you to list the email addresses of friends and family to whom you want to send your wish list. Voila, you have announced your love of Salvias to all who are near and dear to you, but we won't use their addresses for any other purpose.
Questions?
Although our days are full of work in our fields and greenhouses, we are always near a telephone or computer. At Flowers by the Sea, we pride ourselves on excellent customer service as well as quality plants and shipping. So don't hesitate to call or write to us with your questions.
Plants mentioned in this article