Salvia x 'Margie Griffith' is currently on pre-order. Available: Apr 15, 2018
Pre-order this plant now and it will be shipped on the week you select when checking out. You can enter your email here to be notified when it becomes available. Just in time for your spring planting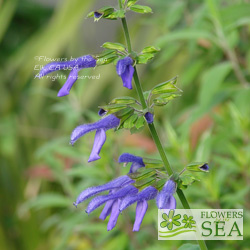 Mouse Over To Zoom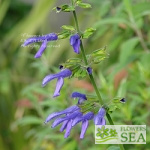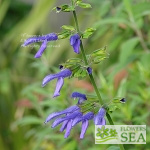 Common name

This is the non-scientific name used for a plant. A plant may have several common names, depending on the gardener's location. To further confuse the matter, a common name may be shared by several completely different plants. At Flowers by the Sea, we rely on the scientific name to identify our plants and avoid confusion.

Margie Griffith Sage
USDA Zones

The U.S. Department of Agriculture plant hardiness zones indicate the temperature zones where a plant is likely to thrive. It is determined by the average annual winter minimum temperature. Actual winter temperatures may be higher or lower than the average.

8 - 11
Size (h/w/fh)

The U.S. Department of Agriculture plant hardiness zones indicate the temperature zones where a plant is likely to thrive. It is determined by the average annual winter minimum temperature. Actual winter temperatures may be higher or lower than the average.

96"+/96"+/96"+
Exposure

This is the average amount of sunlight that a plant needs to thrive. Generally, full sun exposure is 6 or more hours of direct sun daily while partial shade is less than 4 hours of sun or dappled shade all day. Plants may tolerate more sunlight in cooler climates and need afternoon shade in extremely hot climates.

Full sun to partial shade
Soil type

This is the kind of soil that a plant needs to thrive. Most plants require a well-drained soil that allows the water to soak into the soil without becoming soggy. Sandy and clay soils can be improved by digging in compost to improve drainage.

Rich and well drained
Water needs

Plants have specific water requirements. Water loving means the plant needs regular watering to keep the soil moist. Average generally indicates applying 1 inch of water per week, or watering when the soil is dry to a depth of 3 to 4 inches. One inch of water is equal to 5 gallons per square yard of soil surface.

Average
Pot size

This is the size of the pot your plant will arrive in.

3 1/2 inch deep pot
Container plant?

"Yes" indicates that this plant can be successfully grown as a container plant.

Yes
Hummingbird plant?
Yes
(Margie Griffith Sage) Salvia x 'Margie Griffith' is a big, purple-flowered beauty with glossy green, ribbed foliage. It feeds hummingbirds year round down South and on our coastal, Northern California farm where winter temperatures are moderate.
Donna L. Dittmann, collections manager at Louisiana State University's Museum of Natural Science created this sturdy hybrid, which is said to have Salvia mexicana (Mexican Sage) and Salvia involucrata (Roseleaf Sage) parentage. Perhaps it's the Roseleaf influence that gives it a touch of shade tolerance.
Dittmann shared her plant with hummingbird expert Nancy L. Newfield, who shared it with us. The sage is named for their late friend Margie Griffith. The three of them became deeply connected through the Louisiana Ornithological Society and wildlife gardening.
Salvia x 'Margie Griffith' is a perennial at the cooler end of its range and a shrub in warmer zones. In the far north it may bloom too late to support the fall hummingbird migration. It is at it's best in mild climates with little to no frost.
Hummingbirds find it tasty, but deer avoid it. Give it average watering and rich, well-drained soil.