May 10, 2010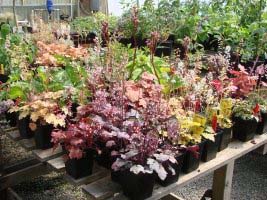 The first real sunny Spring day in a rainy year. Of course, between the sunny spells its hailing! Whether or not global warming is the cause, the weather over the last five years has become less and less predictable. So the always-difficult task of timing the propagation, transplanting, feeding, grooming and hardening off of Spring nursery stock has become even more of a dilemma.

Fact: Plant sales start 4 to 6 weeks before the onset of settled weather.

Fact: To have a good variety of stock available – healthy, well branched and hardened off from any greenhouse time is somewhere between difficult and impossible.

Now let me clarify that last statement. It is problematic to have nice plants using sustainable methods. Not easy, but doable with little regard for the use of chemicals and fuel for heating. Let's take an example, Salvia gesneriiflora 'Tequila', as an example.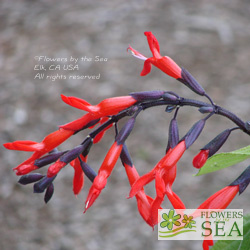 Big Mexican Scarlet is a shrub in Zones 9 and above, and a herbaceous perennial in Zone 8. It is a Winter bloomer. Cuttings taken in the fall will inevitably bloom, and need to be cut back and allowed to re-grow before the plant is saleable (or ready to plant). This takes until at least June, sometimes July here in Northern California for the cuttings we take in the Fall to be of the quality we demand for sale.

But in June or July, we sell few of these beautiful plants. Most of the sales are in late March to the end of May.

Many nurseries go the Fall route, use plant growth regulators to keep the stock short, and put them on the heat in February to get them to grow. In my opinion, the resultant plant is not only stressed and out of sync, but the chemicals and fuel used to get it to that point is not appropriate or wise.

So we have learned to carefully time the rooting of cuttings in early March, and we can now get good stock ready in late April. But we still lose out on the strong and important first sales surge of the season. And if the weather is as unpredictable as it has lately been, the chances of getting it "right" are slim.

This pattern or a variant thereof is something we have to contend with for hundreds of different cultivars. You no doubt see the dilemma. Grow "unnaturally" and have something ready for early sales, or do it sustainably and have great plants ready a few weeks later – maybe.

We are not unlike a number of small, family run nurseries around the country that put quality at the top of our list. But all of these businesses need to make sales when their customers decide the time is right. And that time is often not when the best plants or really any plants at all are or can be available.

I would very much appreciate your comments and opinions on this subject.
Plants mentioned in this article

Salvia gesneriiflora 'Tequila'
---