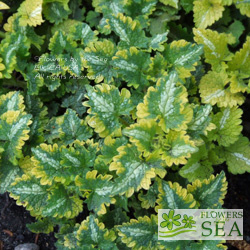 Mouse Over To Zoom
Common name

This is the non-scientific name used for a plant. A plant may have several common names, depending on the gardener's location. To further confuse the matter, a common name may be shared by several completely different plants. At Flowers by the Sea, we rely on the scientific name to identify our plants and avoid confusion.

Anne Greenaway Dead Nettle
USDA Zones

The U.S. Department of Agriculture plant hardiness zones indicate the temperature zones where a plant is likely to thrive. It is determined by the average annual winter minimum temperature. Actual winter temperatures may be higher or lower than the average.

4 - 9
Size (h/w/fh)

The anticipated mature size of the plant: Height, Width & Flower Height.

12"/36"/12"
Exposure

This is the average amount of sunlight that a plant needs to thrive. Generally, full sun exposure is 6 or more hours of direct sun daily while partial shade is less than 4 hours of sun or dappled shade all day. Plants may tolerate more sunlight in cooler climates and need afternoon shade in extremely hot climates.

Partial to full shade
Soil type

This is the kind of soil that a plant needs to thrive. Most plants require a well-drained soil that allows the water to soak into the soil without becoming soggy. Sandy and clay soils can be improved by digging in compost to improve drainage.

Any
Water needs

Plants have specific water requirements. Water loving means the plant needs regular watering to keep the soil moist. Average generally indicates applying 1 inch of water per week, or watering when the soil is dry to a depth of 3 to 4 inches. One inch of water is equal to 5 gallons per square yard of soil surface.

Ample
Pot size

This is the size of the pot your plant will arrive in.

3 1/2 inch deep pot
Container plant?

"Yes" indicates that this plant can be successfully grown as a container plant.

Yes
(Anne Greenaway Dead Nettle) The glowing tri-color foliage of this Lamium features splashes of cheerful chartreuse that light up full shade. Similar to other Dead Nettles, it has heart-shaped leaves with dentate margins that look like they were trimmed with pinking shears.
Anne Greenaway looks cute, like a little girl dressed up for a special occasion. When in bloom, it features mauve to lavender flowers. But this is a tough shade plant, because it tolerates heat, cold, moisture variations and some direct sun.
Getting it to spread is easy, because the plant's stoloniferous stems root wherever they touch the soil. For planting, we recommend spacing them 16 to 20 inches apart. Thinning this plant is also easy and provides new sets for transplanting.
Similar to Salvias, Lamiums are members of the mint family (Lamiaceae). They are excellent companion plants for sages in shady woodland gardens and in containers with limited exposure to full sun. For best results give them good drainage and average to ample watering. However, remember that most mint family plants don't like soggy soil.
Unlike similar looking Stinging Nettles (
Urtica dioica
), Lamiums don't have prickly hairs that hurt. Hence, the "dead" (without nettles) part of their common name.