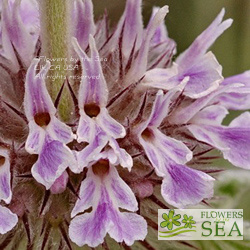 Common name

This is the non-scientific name used for a plant. A plant may have several common names, depending on the gardener's location. To further confuse the matter, a common name may be shared by several completely different plants. At Flowers by the Sea, we rely on the scientific name to identify our plants and avoid confusion.

Scallop Shell Horehound
USDA Zones

The U.S. Department of Agriculture plant hardiness zones indicate the temperature zones where a plant is likely to thrive. It is determined by the average annual winter minimum temperature. Actual winter temperatures may be higher or lower than the average.

6 - 10
Size (h/w/fh)

The anticipated mature size of the plant: Height, Width & Flower Height.

12"/24"/18"
Exposure

This is the average amount of sunlight that a plant needs to thrive. Generally, full sun exposure is 6 or more hours of direct sun daily while partial shade is less than 4 hours of sun or dappled shade all day. Plants may tolerate more sunlight in cooler climates and need afternoon shade in extremely hot climates.

Full sun
Soil type

This is the kind of soil that a plant needs to thrive. Most plants require a well-drained soil that allows the water to soak into the soil without becoming soggy. Sandy and clay soils can be improved by digging in compost to improve drainage.

Any well drained
Water needs

Plants have specific water requirements. Water loving means the plant needs regular watering to keep the soil moist. Average generally indicates applying 1 inch of water per week, or watering when the soil is dry to a depth of 3 to 4 inches. One inch of water is equal to 5 gallons per square yard of soil surface.

Drought resistant
Pot size

This is the size of the pot your plant will arrive in.

3 1/2 inch deep pot
Container plant?

"Yes" indicates that this plant can be successfully grown as a container plant.

Yes
Hummingbird plant?

Hummingbirds have been observed regularly feeding from this plant's flowers.

Yes
(Scallop Shell Horehound) The mint family (Lamiaceae) is well known for fragrant, medicinal plants, including Marrubium supinum, which means "bitter" and "prostrate."

Whorls of lavender blossoms create a cool look in combination with this Spanish native's foliage, which has a felted texture and looks silvery whitish green due to lots of tiny, moisture-conserving hairs.

It's the shape of the groundcover's leaves and their softly rounded serrations that inspired the perennial's common name Scallop Shell Horehound.

Hummingbirds enjoy the nectar of this full sun plant that tolerates heat, cold and drought. It's an effective, creeping groundcover for dry gardens and an excellent companion for waterwise Salvias. Once established, Scallop Shell Horehound needs little supplemental watering.

Marrubium is said to derive from the Hebrew word expressing bitter flavor. It's also the ancient Roman name for cough syrup. Another form of the herb -- common or white Horehound Marrubium vulgare -- is used in making old fashioned hard candy known for its bittersweet taste.

Before consuming any herbal product for medicinal purposes, be sure to consult your physician.