New at FBTS: Take a Peek at 'Quick Look'
First posted on Dec 7, 2015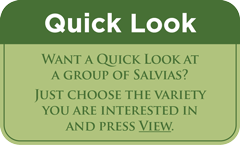 Similar to daily life, websites can make you sigh over their complications. Searching for what you need sometimes feels like a game of hide-and-seek. That's why we created our new homepage feature called "Quick Look."
Finding ways to simplify access to our online nursery catalog at Flowers by the Sea is important to us, because we sell hundreds of different Salvias and companion plants grown on our Northern California farm. We want to make your shopping experience as easy as possible. This new feature is the direct result of feedback from you - our friends and customers.
Quick Look is a shortcut that gives you rapid access to galleries of sages by group. It allows you to visually compare a large group rapidly, and to drill down to more information with a single click. You'll find it on the right side of the homepage just above the free subscription button for our "Salvia Guru" newsletter, and in the left column on most other pages.
Here is how Quick Look works: Select a Salvia group from the pull-down menu beneath the artwork featuring friendly Mr. Sage. Examples of group galleries include:
Next, click on the green View button. To reach the description page for any plant pictured, click on the Details button beneath its photo.
We'll be adding Quick Look groups regularly, so please check back often. And please contact us if there is a particular group you would like us to include.
At FBTS we prefer to make you sigh in relief or sigh about beauty. But if you ever find yourself sighing about a problem or need more information, please call or send us an email.
Revised on Sep 26, 2020 05:00 PM