Pantone Pageant: Emerald Designer Salvias
Jan 2, 2013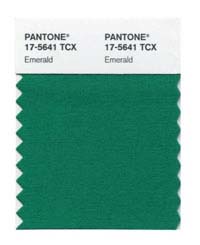 Emerald and other cool shades of green are among the hot colors for 2013, according to Pantone. Flowers by the Sea doesn't generally think of greens or of any colors in nature as being "in" or "out." However, we think it is fun and fresh to consider garden design from a different perspective -- Pantone's annual color report for design industries.
In the coming weeks, we'll parade a number of lovely Salvias down the runway of our blog in a pageant of sorts, showing how the Pantone color matching system can be used to shape landscaping decisions. We'll also talk about the impact of beautiful houseplant foliage, such as Plectranthus species, on interior design.
The Pantone corporation creates inks and publishes an extensive color-matching system for industries such as fashion, interior design, marketing, plastics, printing and textiles. All of the colors in its matching system are assigned an identification number. Here's an introduction to Emerald 17-5641, which movie star Angelina Jolie helped inspire.
Top 2013 Color
So, first up in our pageant is Pantone's top color of the year called Emerald 17-5641. It is a rich blue-green similar to the foliage of various FBTS Salvias, including ground covers, shade plants and one of our favorite kitchen sages that loves full sun.
You can line a sunny or shady path with the shorter plants to create a lushly green aisle of fragrance. Or you can shelter a taller, tender member of the Salvia guaranitica group in a planter on a patio with partial shade.
Shady Emerald Aisle
Are you the kind of gardener who likes compact border rows or do you prefer a bit of luxurious sprawl? A partial- to full-shade walkway with room for a short, narrow border may be just the spot for the emerald foliage of two types of Makino, a native Japanese sage. In a partial-shade location with more room, the emerald ground covers Blue Vine Sage and Creeping Big Leaf Sage can stretch out. All like well-drained, fertile soil.
Shi Ho Makino (Salvia glabrescens 'Shi Ho'). Although it has short spikes of pretty, bi-color lavender and purple flowers, Shi Ho Makino is mainly notable for its golden-green foliage that turns emerald as it ages. The leaves are sharply serrated and shaped like arrowheads. The average size of this hardy woodland native is 24 inches tall and 18 inches wide. It is a perennial in USDA Zones 5 to 9 where it does well in soil that is moist but not soggy.
Elk Yellow & Purple Makino (Salvia glabrescens 'Elk Yellow & Purple'). Aside from its lush emerald foliage, Elk Yellow & Purple Makino is particularly notable for the porcelain-like look of its creamy pale yellow flowers with dramatic purple markings guiding pollinators to its nectar. It grows about 12 inches tall and 18 inches wide in the same Zones and conditions as its relative Shi Ho.
Blue Vine Sage (Salvia cacaliifolia). The true blue flowers of Blue Vine Sage bloom profusely for 8 to 10 months in some areas, such as on the Northern California coast. The flower stems arch up 12 to 24 inches and form a striking contrast with the deep green of the vine's triangular leaves. It grows well in USDA Zones 8 to 11, averaging 36 inches tall and 42 inches wide. After the threat of frost passes, prune it almost to the ground to keep this patch of blue heaven shapely and in bounds.
Creeping Big Leaf Sage (Salvia macrophylla 'Short Form'). Hummingbirds love the 12-inch spikes of cobalt blue flowers shooting upward from the velvety leaves that look similar to those of ornamental Sweet Potato Vine (Ipomoea batatas). Creeping Big Leaf Sage hangs gracefully over edges of containers and raised beds; in the ground, it spreads by woody rhizomes and forms an efficient ground cover rising up to 24 inches high and spreading 36 inches wide. Partial shade is a good idea if you grow this South American native in hotter parts of USDA Zones 9 to 11. However, in cooler areas, it does fine in full sun.
Patio Planter Gems
As already mentioned, the heart-shaped leaves of Creeping Big Leaf Sage are lovely cascading over planters. Here is another more upright gem for containerized patio plantings in partial shade. Similar to other Salvias in the S. guaranitica group, it features vivid flowers in the blue range of the color wheel.
Variegated Anise Leaf Sage (Salvia guaranitica 'Omaha Gold'). Look closely at the rumpled, lance-shaped leaves of this sage and you notice that the colors shift from lime – what Pantone might call "Tender Shoots Green" – to splotches of a nearly perfect match for Emerald 17-5641. Rub the leaves, and you'll smell licorice. By selecting a color-matched container, you can draw out this saturated blue-green.
Variegated Anise Leaf Sage is a good choice for USDA Zones 7 to 10. Place it in a large planter, because – at least in the ground – it can grow 48 inches tall and wide. S. guaranitica Omaha Gold also looks lovely planted at the base of a partial-shade climbing rose. Cut it back to the ground in early Spring to shape it for the next season's growth, which booms through Fall and beyond in mild climates.
Sunny Kitchen Garden Walkway
No herb garden is complete without Culinary Sage. One of our most fragrant and intensely flavored cultivars is also one of our closest matches to Pantone 17-5641. This one could line the walkways of Oz's Emerald City.
Potent Culinary Sage (Salvia officinalis 'Extrakta'). The long, narrow, lance-shaped leaves of this European cultivar of common kitchen sage are uncommonly flavorful in sage butter and provide a rich emerald accent for a sunny garden path or border. Potent Culinary Sage is perennial in USDA Zones 6 to 9. However, with some preferential treatment – such as winter mulching – it may come back year after year in Zone 5 as well. Plan on it rising up to 36 inches and reaching 24 inches wide. You'll need a location offering well-drained soil with average fertility and dry to average moisture.
Lightening Up Pantone Style
As the influence of Pantone Emerald on clothing, furnishings and paint choices becomes more obvious this year, you may also notice an increase in lighter green choices. These include Pantone's "Tender Green Shoots" and "Grayed Jade." Those colors come up next in our Pantone garden pageant.
You may even find yourself in an office supply store lingering over a box of mixed green binder clips and wondering what it would be like to mix up all three greens in one garden bed. Good thinking!
Plants mentioned in this article