Pantone Pageant: Sprawling Salvias for a Monaco Blue Slope
Feb 18, 2013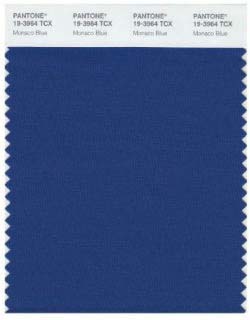 Think of a deeply saturated blue that is a few shades less serious than a sober, go-to-work navy blue. You will be imagining Monaco Blue 19-3964 -- one of Pantone color corporation's top designer colors for 2013.
Now, if you live in that intersecting territory between cold and mild winters represented by USDA Zones 7 to 9 -- or, if you are adventurous and willing to experiment with cold and heat, you might stretch that to Zones 6 to 10 -- imagine filling a problem slope with Monaco Blue in the form of Salvia cuspidata ssp. gilliesii.
Commonly known as Chilean Mountain Sage, it is a tall, but sprawling sage that cascades gracefully on slopes if it's 6-to-7-foot-tall branches are allowed to go lax without support. It spreads about 6 feet wide and blooms from summer into fall.
You may want to intersperse it with a shorter but similarly lanky sage to give the slope's landscape an undulating shape. Try the winter-to-spring bloomer Spreading California Purple Sage, which has whorls of tiny, lavender blossoms.
At the crest of the slope, add in another summer-to-fall bloomer -- the more upright Limelight Mexican Sage, which combines long Monaco Blue flowers with green foliage so light and bright that it is a good example of another Pantone 2013 color called Tender Shoots Green 14-0446.
The comfort level of all three plants meets in Zones 8 to 9. However, winter mulching and some preferential, partial shade may help you increase that range as previously mentioned.
Want more information about how to do this or about other lovely sage blossoms to tumble down your slope? Please email or talk with us. We love to chat and help you seek Salvia solutions to any challenging area in your yard.
Plants mentioned in this article

Salvia mexicana 'Limelight'
---