Sacred Sage: Healing and Educating with Clary Sage
Apr 14, 2015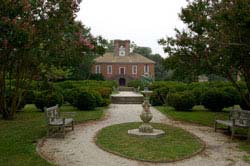 American colonists, the home medicine cabinet was the kitchen garden just beyond the entry to their homes. Many of the plants in these 'dooryard gardens' were herbs used for multiple purposes, including serving as medicines. The New England Unit of the Herb Society of America notes that perennial Clary Sage (Salvia sclarea) was common in these gardens.
That is why Clary Sage is one of the plants grown today at historical farms, such as Virginia's Stratford Hall where Robert E. Lee was born. Up north, near Newport in Narragansett Bay, University of Rhode Island master gardeners raise the sage in the Colonial herb garden of Prescott Farm on Aquidneck Island.
Clary Sage, as well as Culinary Sage (Salvia oficinalis), can also be found in the colonial garden of Johnson Elementary in Natick, Massachusetts. The garden is located in the Johnson Outdoor Classroom, which is part of a nationwide movement -- No Child Left Inside -- to mandate outdoor education. Teachers use outdoor classrooms for lessons on a broad range of subjects, including history.
Old Time Remedies
During colonial times, Clary Sage was often popularly referred to as 'clear eye.' Although used to season food and to treat a number of ailments, it was particularly valued for its role in cleansing eyes.
When soaked in water, Clary seeds become mucilaginous. Colonists would place a bit of this slippery substance in an irritated eye to attract tiny debris and make it easier to remove.
Colonists brought Clary Sage from Europe where it had been used for centuries as a folk remedy for a number of health problems. In 1653, the English botanist Nicholas Culpeper published his Complete Herbal, which contains a page the plant.
Culpeper listed numerous uses for various parts of the plant to treat problems such as back pain, delayed menstruation and indigestion. He noted that the seed mucilage could also be used topically for drawing out splinters and thorns. Culpeper also wrote that powdered Clary seeds mixed with wine 'is an admirable help to provoke lust.' Clearly, Clear Eye was an all-purpose solution -- a Ginsu knife of the garden.
Modern Research
Of course, grinding up plant seeds and drinking them in wine can be risky business. Some herbs that Colonists swore by have proven over time to be toxic when consumed. So before using any herb for medical purposes, it is wise to consult a physician.
Modern research indicates that Clary Sage shows promise for some medical applications. For example, a British study published in 2000 by the journal Complementary Therapies in Nursing and Midwifery reported that aromatherapy with Clary Sage oil was 'effective in alleviating pain' during labor.
The Mayo Clinic in 2013 reported that aromatherapy with fragrances, such as Clary Sage, 'can have a powerful effect on the mind, influence your mood and lower anxiety' when suffering from cancer.
An article at the University of Maryland Medical Center website says that although human studies are lacking about the efficacy of Clary Sage in aromatherapy, the plant's oil has estrogen-like compounds that may help relieve premenstrual syndrome and menopause. The UMMC also notes test-tube studies showing that Clary Sage oil may be antibacterial and anti-fungal.
That last bit of research information echoes Culpeper's claim that a poultice of Clary Sage leaves mixed with vinegar reduces 'hot inflammations.'
A Healing Pot of Soup
In her Tulips in the Woods blog, garden writer Pomona Belvedere suggests that Culpeper may have been indicating an antiseptic property for treating infections when he wrote about inflammation. Belvedere is a cautious believer in the healing potential of Clary Sage, because of a personal experience.
Suffering from a bad case of flu one year, Belvedere didn't feel up to going to the store for soup. So she made her own using the only materials at hand -- potatoes and a few Clary leaves. She thought the hairiness of the leaves might not taste good, but discovered that they 'cooked up tender and sweet.'
'I swear I felt better after I ate that soup,' Belvedere says and adds that she makes Clary-leaf soup whenever she is ill.
Clary Sage by the Sea
At Flowers by the Sea, we grow annual as well as perennial species of Clary Sage. Except for the perennial Italian Clary Sage (Salvia sclarea var. turkestanica 'Piemont'), all grow well in USDA zones 5 to 11. Italian Clary spans zones 7 to 10.
They all love sun and rich, well-drained soil. Salvia sclarea is the one referred to as Clear Eye. However, all have seeds that have been used historically to soothe eyes.
Average size at maturity both for Clear eye and Italian Clary is 36 inches wide and tall, whereas annual species -- known as Hormium Salvia (Salvia viridis) -- are shorter. The most drought tolerant type is Salvia sclarea, which works well in dry gardens. If you have any questions about how to fit these dramatic sages into your landscape, please write or call. We've grown Clary Sage for a long time and would be glad to share what we know.
Leave No Child Inside this Summer
One thing that we know is that Clary Sages are the kind of colorful plants children would likely enjoy planting. It's easy to share the natural world with your kids in the garden. You might even find yourselves enjoying a discussion about history or science.
June is national Leave No Child Inside Month -- a time for learning through relaxing outdoor activities. But the entire growing season is a ripe opportunity for field trips to the garden.
Updated 5/28/2017
Plants mentioned in this article