Salvia Small Talk: Butterflies Love St. Catherine's Lace
Aug 18, 2014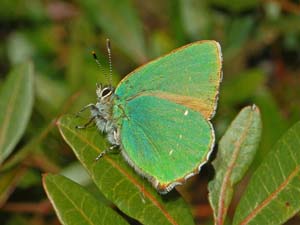 Fall is the time for acts of faith in the garden. It is a season when gardeners plant promising species that they know won't flower until the next growing season, but will eventually provide beauty as well as wildlife habitat.
These include the California native St. Catherine's Lace (Eriogonum giganteum), which attracts many butterflies to gardens and natural areas in USDA Zones 7 to 9. At 6 feet tall and 4 feet wide, it is a vast candy shop for butterflies during bloom time from spring into fall. It is one of our favorite Salvia companion plants.
Heat- and drought-tolerant, the Buckwheat genus (Eriogonum spp.) is a bonanza for butterflies, because it offers rich nectar for adult feeding as well as foliage on which many Lepidoptera like to lay their eggs.
In Southern California, St. Catherine's Lace is a nectar and host plant for the rare, gray Avalon Scrub-Hairstreak (Strymon avalona). According to the Lady Bird Johnson Wildflower Center, this butterfly is only found on Santa Catalina Island.
Further north, this Buckwheat is a butterfly magnet at the 2,656-acre Sausal Creek Watershed in Oakland, California, where it attracts an array of species, including:
Acmon Blues (Plebejus acmon)
Buckeyes (Junonia spp.)
Dotted Blues (Euphilotes spp.)
Green Hairstreaks (Callophrys spp.)
Gray Hairstreaks (Strymon spp.)
Mormon Metalmarks (Apodemia mormo) and
Skippers (Hesperiidae spp.).
Other butterfly favorites in the Sausal Creek area include Cleveland Sage (Salvia clevelandii) and Purple Sage (Salvia leucophylla). Similar to St. Catherine's Lace, they are also excellent at attracting honeybees.
At Flowers by the Sea, we greatly appreciate all these small wildlife that bring fertility, color and buzz to our gardens. Please contact us with any questions you may have about planting wildlife habitat, including butterfly gardens.
Plants mentioned in this article