Salvia Small Talk: Unusual Pineapple Sage Culinary Treats
Mar 9, 2014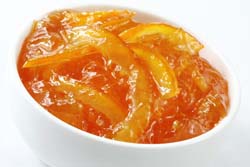 Pineapple Sage (Salvia elegans) has fragrant, mid-green foliage with a scent likened to freshly cut pineapple. Its leaves and flowers are both edible. While it's common in cake and bread recipes, Salvia elegans also provides excellent flavoring to herb butters and marmalade. Some cultivars, such as Salvia elegans 'Tangerine' offer a citrusy fragrance.
In her book The Edible Flower Garden, Rosalind Creasy says that chopped Pineapple Sage blossoms are a good addition to sweet herb butter. Creasy's recipe includes unsalted butter, superfine sugar, almond extract and two tablespoons of chopped blossoms. We think that adding a bit of minced Pineapple Sage leaves would give the butter a pleasantly piquant flavor.
A recipe at the Cooks.com website gently stirs in whole sprigs of Pineapple Sage to homemade orange marmalade for flavor and color. Both the marmalade and the herb butters would be wonderful treats for a coffee break or tea time.
If you like to create recipes with Salvia elegans or other edible sages, please contact us to share your favorites.
Plants mentioned in this article