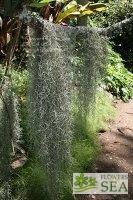 Common name

This is the non-scientific name used for a plant. A plant may have several common names, depending on the gardener's location. To further confuse the matter, a common name may be shared by several completely different plants. At Flowers by the Sea, we rely on the scientific name to identify our plants and avoid confusion.

Spanish Moss
USDA Zones

The U.S. Department of Agriculture plant hardiness zones indicate the temperature zones where a plant is likely to thrive. It is determined by the average annual winter minimum temperature. Actual winter temperatures may be higher or lower than the average.

7b-11
Size (h/w/fh)

The anticipated mature size of the plant: Height, Width & Flower Height.

Streams from trees
Exposure

This is the average amount of sunlight that a plant needs to thrive. Generally, full sun exposure is 6 or more hours of direct sun daily while partial shade is less than 4 hours of sun or dappled shade all day. Plants may tolerate more sunlight in cooler climates and need afternoon shade in extremely hot climates.

Partial shade
Soil type

This is the kind of soil that a plant needs to thrive. Most plants require a well-drained soil that allows the water to soak into the soil without becoming soggy. Sandy and clay soils can be improved by digging in compost to improve drainage.

None
Water needs

Plants have specific water requirements. Water loving means the plant needs regular watering to keep the soil moist. Average generally indicates applying 1 inch of water per week, or watering when the soil is dry to a depth of 3 to 4 inches. One inch of water is equal to 5 gallons per square yard of soil surface.

Average
Pot size

This is the size of the pot your plant will arrive in. All will be well rooted & branched and ready to grow when planted. Our 3 1/2 inch pots have a volume of 1.0 pints or 473 ml.

NA
Container plant?

"Yes" indicates that this plant can be successfully grown as a container plant.

No
Tillandsia usneoides is more commonly known as Spanish Moss. In the deep South, it grows in streamers from trees, most commonly Live Oaks and Bald Cypress in shaded, high humidity environs. It is a true epiphyte, a plant that lives upon other plants; from Greek "epi"=upon "phyte"=plant.
So, why do we have Spanish Moss for sale? Well, the tiny green and yellow flowers are nice. For truly for the general ambiance it adds to our cool, moist greenhouse - and for the contribution it makes toward keeping the air humid for our Masdevallias. We just like it.
So, how do you grow Spanish Moss? Hang it in your greenhouse or patio in shade to part shade, water it at least three times a week in dry weather, and divide it as it increases. We spritz ours with dilute fertilizer when we water the orchids, and they respond by growing faster with increased blooming. I consider this an easy plant to grow in appropriate conditions. It does not like dry air, and please take that into account before you purchase this little gem.
We pack this by the pound. A quarter pound is a ball about the size of a soccer ball, or about a four foot streamer. In good conditions it will double in size every year.