Salvia Small Talk: Identifying Sages Native to Your State
Jun 12, 2013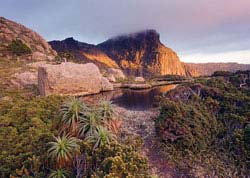 One of the quickest ways to identify sages (Salvia spp.) native to your state is to visit the 'State Search' page of the U.S. Department of Agriculture Plants Database. Here are the steps:
First, write 'Salvia' in the scientific name search box at the top left-hand side of the USDA Plants Database page and click on

State Search

just beneath it. When the new page opens, click on the box next to your state, territory or protectorate. For an example, we'll click on New Mexico.
Next, we go to the bottom of the State Search page and click on 'Display Results.'
Now, a page opens containing the list of

Salvia

that are native to New Mexico -- ones that have been there since Columbus arrived in the New World -- as well as ones introduced to the state but common in the wild (naturalized). The list for New Mexico shows 30 records.
Let's click on

Salvia lemmonii

. A 'Plants Profile' for

Lemmon's Sage

opens. On the left-hand side of the picture, the term 'Native Status' is followed by a code. (You can click on Native Status for a quick explanation of all the codes.) It says 'L48 N,' which means that New Mexico is one of the states among the lower 48 where the plant is native. If it said 'I,' that would mean 'introduced.'
Finally, scroll down the page to the map of the U.S. All of the states shaded in green indicate where the plant is either native or introduced.

For a broader look. Here are steps to take if you want a survey all the Salvia species that the USDA has recorded as either being native or introduced to North America:
Go back to the grey search box on the left-hand side of the page. Type in 'Salvia' again and make sure that 'Scientific Name' appears as the choice in the drop-down menu below the search box. Click 'Go' to arrive at a list of all the

Salvia

species on the website.
Click on the first scientific name in the list, which is

Salvia L

. The 'L' stands for Carl Linnaeus, the 18th century Swedish naturalist who first described the genus

Salvia

.
When the new page opens, notice that Native Status says 'none.' This is because the page details 95 species, not all of which are native to North America.
Scroll down the page to view 95 thumbnails of the continent. The little boxes in the ocean indicate offshore parts of the U.S. Areas shaded in blue indicate where the plant is native. Gray shows areas of introduction.
If you have questions about whether we carry a sage detailed by one of the thumbnails, the next step is to visit the A to Z directory in the Flowers by the Sea online catalog. Of course, if you are tired of all this clicking and scrolling you can always write or call us. We're glad to answer questions.
Plants mentioned in this article