Salvia Small Talk: Sage -- Soul & Future of the West
Mar 21, 2013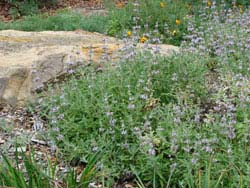 Sage is the signature fragrance of the American West, according to
Los Angeles Times
reporter Emily Green, who writes regularly about dry gardening. Green says it is as essential to a Western garden as lavender is to a French landscape.
Green adds that sages (
Salvia spp.
) aren't just a symbol of the West's pioneer past, but a 'powerhouse plant of our future' due to the
drought tolerance
of so many species.
In addition to California native sages, Green enjoys
Canary Island Sage
(
Salvia canariensis
), which she describes as the 'star of spring gardens.' She notes that if you are willing to spare some of the plant's buds as
habitat for caterpillars
, Canary Island Sage still blooms bountifully while acting as a 'butterfly nursery.'
Meta Tags: Dry garden Salvias, dry garden plants, drought-resistant Salvias, buy drought-resistant Salvias, buy drought-resistant plants, dry garden Salvias for sale, drought-tolerant Salvias for sale, buy drought-tolerant Salvias, LA Times dry gardens, Emily Green LA Times, Western dry garden, Western Salvia gardens, Canary Island Sage, Salvia canariensis, Canary Island Sage in California, Salvia carariensis in California, drought-resistant Salvia canariensis, Flowers by the Sea Nursery
Plants mentioned in this article