Salvia x jamensis: Painting the Landscape with Pastels
Sep 22, 2012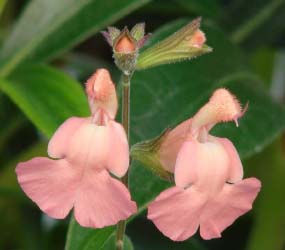 Planning a flowerbed with pastel bicolored Salvia x jamensis is a bit like organizing a fancy sweet 16 birthday party. It takes finesse and the right guest list of complementary perennials and annuals for fun and harmony. These Salvias are colorful, but not boisterous flowers.

Most Salvia's, including S. x jamensis, prefer full sun and well-drained soil that is on the dry side. So their partners need to be drought-resistant as well as being the right heights and hues.

Lively Parents

However, Salvia x jamensis varieties aren't as prim as their pastels might indicate. They originate from a hybrid swarm created by crossings between two mostly bright-colored species of Mexican Salvias – Autumn Sage (S. greggii) and Mountain Sage (S. microphylla).

Botanical explorers discovered the swarm in 1991 in Central Mexico where the Autumn and Mountain sages meet at the juncture of the western and eastern Sierra Madre mountain. S. greggii comes from the western-mountain side of the family; S. microphylla from the east.

Similar to Autumn Sage, S. x jamensis varieties have small, smooth leaves, love full sun and are shorter than Mountain Sage. However, as with Mountain Sage, they can tolerate a bit more shade and moisture than Autumn Sage and generally don't flower as much as Mountain Sage in the summer months. Instead their blossoms appear in spring and again in fall until frost.

But enough of genealogy. Let's get this garden party going and paint the landscape pastel with an occasional brighter color. Following are two ideas for groupings of walkway or foundation plantings based on some of the favorite S. x jamensis at Flowers by the Sea.

Betty, Jean and Robin Basking in Moonglow

For a luminous gathering of white-to-pale pink perennials, we suggest these choices for U.S. Department of Agriculture plant hardiness zones 7 to 9:

• Betty's Mountain Sage (S. x jamensis 'Betty');
• Robin Middleton Mountain Sage (S. microphylla 'Robin Middleton');
• Jean Davis Lavender (Lavandula angustifolia 'Jean Davis'), which is light pink;
• White Grosso Lavender (Lavendula x intermedia cv. 'White Grosso');
• Sedum 'Frosty Morn', which is 2 to 3 feet tall and has mint green leaves trimmed with white; and
• Moonglow California Poppy (Eschscholzia californica 'Moonglow').

None of these plants grows more than 36 inches tall, so they are ideal for edging situations such as walkways, driveways and foundations. One layout might place the tallest lavender (White Grosso) at the center and follow this linear pattern: Betty, Frosty Morn', Robin, Jean Davis, Betty, White Grosso, Betty, Jean Davis, Robin, Frosty Morn', Betty. Moonglow poppies would be interspersed throughout, all the better for basking.

What can we say? Party seating and flowerbed plans can be somewhat complicated. However, here is the bloom-time logic behind this arrangement. Betty and Robin bloom in spring and fall. The others bloom at various times from spring to fall so there are always at least two kinds of plants lighting up the landscape during each season.

Betty's Mountain Sage usually grows up to 24 inches tall and wide, has creamy pinkish-to-lavender flowers with darker lavender throats. The bracts and stems are dark purple.
In contrast, Robin Middleton Mountain Sage has large, blush pink and white blossoms set against dark green bracts, stems and leaves.

Peachy Creams Party with Yucca Doo and Poppies Too

Salvia x jamensis is well known for its creamy sunset combinations of peach touched with pale yellow and rust. Following are three of these pale beauties, along with the taller, orangish-red, summer-to-fall blooming Autumn Sage and more California poppies. All are fine for Zones 7 to 9. Here's the list:

• Golden Elk Mountain Sage (S. x jamensis 'Golden Elk')
• Peggy's Mountain Sage (S. x jamensis 'Peggy')
• Yellow Pink Mountain Sage (S. x jamensis 'Yellow Pink')
• Big Orange Autumn Sage (S. greggii 'Orange Yucca Do')
• California Poppy Mix (Eschscholzia californica)

The largest plant is the Big Orange Autumn Sage, which rises up 36 inches and spreads 48 inches. The smallest is Yellow Pink Mountain Sage, which usually is 18 inches tall and 24 inches wide. One possible rhythm for the plantings would be: Peggy's Mountain Sage and Golden Elk Mountain Sage with poppies in between, Big Orange, Yellow Pink, Big Orange, Peggy, poppies and Golden Elk.

The participants and seating arrangements ultimately are up to you. Let us know how your Salvia x. jamensis garden party goes.
 
Plants mentioned in this article