Ask Mr. Sage: What to Do When a New Plant Fails
First posted on May 18, 2014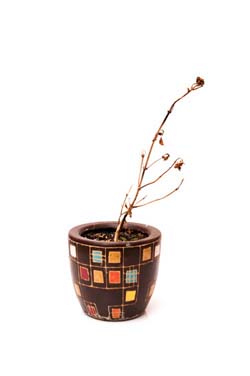 Dear Mr. Sage,
I'm wondering whether I should send back a plant I purchased from Flowers by the Sea and if I should provide some photos to show the problems that began developing as soon as it arrived. Do you provide credits for plants that fail through no fault of the buyer?
I recently purchased Kentish Hero Pouch Flower. The leaves have been browning since it arrived. At first, I thought perhaps that this was due to drying out during shipping. Since its arrival, I've given the plant plenty of water and have never let it go completely dry. Although I keep the soil moist, it continues to wilt.
I keep a close eye on the plant, pinching off the brown leaves as they appear to keep the problem from spreading. However, they continue to brown -- even the new ones in the leaf axils. I've quarantined it away from my other plants, because I'm worried that it may have a contagious root disease.
I'm really disappointed, because the catalog pictures of this plant are so beautiful.
Sincerely,
Concerned Customer
Dear Concerned Customer,
I'm sorry that this occurred. We offer an immediate, unconditional, 100% refund or credit (your choice) to any customer who is dissatisfied with a plant purchased from FBTS. You don't have to mail the failed plant back to us. You also don't need to send photos, because we don't like to make you jump through hoops to prove that a problem exists. However, the detailed information in your email helps us a lot.
We greatly appreciate our customers providing useful information and acting promptly when there is a problem. That's what you have done.
Of course, some circumstances might arise in which we think it would be wrong for a customer to request credit or money back. For example, if a plant dies during an exceptionally cold winter or doesn't receive adequate watering, it would be unfair to expect us to make up for the loss. But sometimes plants fail to thrive through no fault of our customers and without suffering the stress of extreme weather.
Some plants are tricky to grow and occasionally present problems we can't identify. Kentish Hero Pouch Flower (Calceolaria integrifolia 'Kentish Hero') is one. Sometimes, we'll notice a Kentish Hero plant with the same symptoms you describe, and it will be next to a multitude of others that are thriving. Unfortunately, despite submitting samples to our local agricultural lab, this problem remains a mystery to us.
We always use bacterial inoculants to suppress soil-borne diseases for all our plants. Regarding Kentish Hero, the lab reports we've received have always been negative for plant diseases.
When it is possible for a customer to report a problem quickly, we can check the batch of stock that contained the failing plant. The plant you received is from a completely healthy batch. So no clue there! My best guess is that if a Kentish Hero goes completely dry even once, it is difficult to revive. I apologize if your plants arrived in dry condition, because we don't want that to happen. Of course, if you live far from our Northern California farm and select ground shipping that may cause plants to go dry.
Many of the plants we sell are extremely easy to grow, but we don't limit ourselves to easy species. Certain plants, despite sometimes being difficult to grow, are such great beauties that we think they are worth the risk.
At FBTS, we don't want to disappoint you. If you would like to try Kentish Hero again, we may be able to include a replacement plant in one of your future orders. Or we can provide a credit or refund if that is what you prefer.
Please call or write whenever you have a problem with our products. We want to hear from you and make things right.
Thanks for Your Question,
Mr. Sage
Ask Mr. Sage is a question-and-answer feature based on topics raised in calls and emails that Flowers by the Sea receives. To send a query, just click on the Ask Mr. Sage button on this page.