Don't think "drab" when you hear the phrase "dry garden." With guidance from good books and a willingness to experiment, you can create colorful dry gardens — flowerbeds and landscapes that require little to no supplemental watering at times of year when precipitation is extremely limited. Dry gardening is a sustainable choice in the western half of the nation where semi-arid climates and drought are common. Here is a quick overview of three books that are excellent resources.
Potential Readers
Anyone who needs to research how to design low water plantings that are attractive and sustainable during dry growing seasons and drought
Gardeners who live in California, the Southwest, or the Mountain West plains and
Flower lovers who want to learn more about drought-resistant Salvias
Hot Color, Dry Garden: Inspiring Design and Vibrant Plants for the Waterwise Gardener
by Nan Sterman
Timber Press: 2018
ISBN 978-1-60469-457-4
The central and southern coast of California has a weather pattern referred to as a Mediterranean climate — dry, hot summers and, unless suffering drought, mild, wet winters. Low water landscaping is the best choice here as well as the semi-arid Southwest in which half the region's annual precipitation occurs during the July-to-August summer monsoon.
Nan Sterman's book bursts with color, texture, and hardscape solutions for dry gardens in areas with mostly mild winter temperatures and hot, sere summers. The author is a botanist, educator, and garden journalist who lives in one of America's driest cities — San Diego, where average annual rainfall is a bit more than 10 inches and the actual figure was less than 4 inches in 2018. Her own abundantly green xeric landscape proves what she refers to as "common misconceptions" about dry gardens. These include the ideas that dry gardens (1) lack color, (2) are "scrubby and scrappy," and (3) are dominated by rocks and cactus.
Sterman takes readers on a tour of residential dry gardens along California's coast from Sonoma to San Diego. Readers also visit a few gardens in the high desert of Albuquerque , New Mexico, and Tucson, Arizona. (Readers outside California may wish that she had included more Southwest examples.) Colorful photographs illustrate the book's galleries of gardens and drought-resistant plants. The latter (organized alphabetically by botanical name) includes many Salvias, such as:
The author analyzes how to make landscaping pop with elements as simple as a single colorful wall or as complex as the conversion of a front lawn into a "confetti" of native wildflowers. Her photos demonstrate how the varying colors, textures, heights, and volumes of artfully combined foliage can be even more important than flowers in converting brown to bright.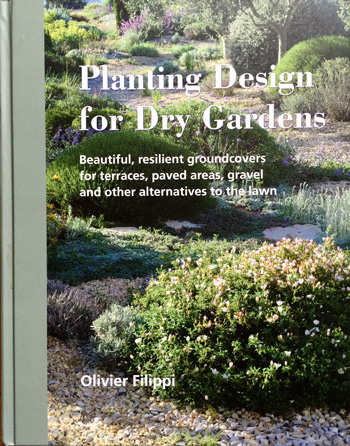 Planting Design for Dry Gardens: Beautiful, Resilient Groundcovers for Terraces, Paved Areas, Gravel and Other Alternatives to the Lawn
by Olivier Filippi
Translated by Caroline Harbouri
Filbert Press: 2016
ISBN 978-0-99338-920-7
Groundcover is a deceptive term. The first image that likely comes to mind is a perennial with low-growing, mat-forming foliage like Bugleweed (Ajuga reptans), Caucasus Sage (Salvia canescens var. daghestanica), or Woolly Thyme (Thymus pseudolanuginosus). The stereotype is that groundcovers are supporting players in landscapes, not leads. Yes, they conserve moisture and discourage weeds, but as Olivier Filippi's book demonstrates, they can do so much more.
Not all groundcovers are petite. Some magnificently spreading types — such as hybrids of California Purple Sage (Salvia leucophylla) may grow up to 5 feet tall (S. x 'Allen Chickering'). Combine many drought-resistant groundcovers of varying heights and shapes but similar cultural needs, and you create a pleasing, water-conserving landscape to replace a thirsty lawn or turn an eroding slope into a cascade of color and texture.
Filippi lives in southern France where he and his wife, Clara, operate Felippi Nursery specializing in plants appropriate for their coastal Mediterranean climate. They have spent decades learning from the natural landscapes of coastal lands and higher elevation (yet still mild in winter) grazing lands (steppe) surrounding the Mediterranean Sea.
Planting Design for Dry Gardens opens with an essay about the relatively recent and unsustainable encroachment of lawns throughout the Mediterranean Basin. The region's pattern of dry, hot summers and mild, wet winters is shared by coastal California and parts of Australia, Chile, and South Africa — places where turf is equally difficult to maintain.
"Tome" is a good word to describe this literally and figuratively weighty book. Although large and illustrated with bountiful color photographs, this isn't a coffee-table book. It's a deep, densely packed resource about dry gardening that provides do-it-yourself advice for projects such as creating gravel gardens and wildflower meadows. One of its most valuable messages for gardeners in almost any climate is to observe nature's planting patterns where you live and apply them to your own yard.
Steppes: The Plants and Ecology of the World's Semi-Arid Regions
A project of Denver Botanic Gardens written by Michael Bone, Dan Johnson, Panayoti Kelaidis, Mike Kintgen, and Larry G. Vickerman
Timber Press: 2015
ISBN 978-1-60469-465-9
Much of Colorado is semi-arid high plains where cold winters and hot summers are the rule, and native plants are mostly ones on which livestock graze — grasses and tender herbaceous plants called forbs. The Colorado prairie is part of the North American Steppe, which shares similarities with the steppe lands of Central Asia, South Africa, and South America. All are represented in the Steppe Garden of the Denver Botanic Gardens (DBG).
The book Steppes resulted from research trips that the authors (DBG curators) made throughout the four regions. Not precisely a gardening guide, it is, instead, a comparison of climates and geography as well as a plant species native to each steppe.
During their travels, the authors identified the homelands of certain plants already popular in the North American, such as the European meadow sage Salvia nemorosa (one variety is Spanish Salvia valentina). They also noted less-familiar plants, such as Anatolian Cushion Sage (Salvia caespitosa) worthy of a home in our nation's gardens.
A Window to the World
Reading is a way to expand gardening knowledge; it's a window to new plants and experiences. At Flowers by the Sea, we enjoy settling down with a good book, especially one about gardening. Please contact us if you would like to suggest one (it doesn't have to be a new title) or have questions about the plants in our catalog.