New USDA Zone Map
First posted on Jul 22, 1969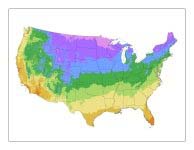 Its warmer than you think.

The new 2012 version of the USDA Hardiness Zone Map puts almost everyone into a higher Winter Zone. For many, this greatly expands the range of plants that can be safely planted and expected to survive year to year.

For you convenience, we now have the updated map on our site. Check it out.
Revised on