Plant Safari Salvia in the South African Fynbos -- Part 1
First posted on Mar 31, 2013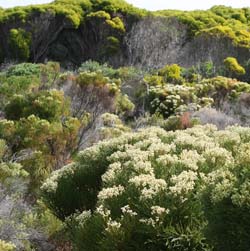 Twenty-six species of Salvia are native to South Africa and of these, 10 grow nowhere else in the world, according to the South African National Biodiversity Institute. SANBI keeps track of the nation's Red List of endangered species, which shows that, so far, the environmental threat to these hardy plants is present but low.
Salvias play an important role in providing wildlife habitat and food as well as brightening the semi-arid landscape of the Western Cape province of South Africa. Some are used in cooking or provide material for herbal remedies used in the alternative medicines taken by many South Africans. Scientific research is beginning to validate the medical qualities and possibilities of a number of these sages, which include:
All are familiar species in South Africa's scrubby Fynbos (pronounced 'fin boze' and meaning 'fine bush') Biome, which dominates the Western Cape Province surrounding the coastal city of Cape Town. It is a large portion of one of the most botanically rich places in the world called the Cape Floristic Region (CFR). The CFR is mostly found in the Western Cape Province, but includes a bit of the adjoining province called the Eastern Cape.

A Botanical Treasure Trove
Overall, South Africa has 19,500 native plant species of which 11,700 are endemic, which means they can be found nowhere else in the world. Although the CFR only covers four percent of the nation's land, it contains more than 5,900 of South Africa's native plants that can be found nowhere else in the world. This makes the Western Cape -- including and surrounding the coastal city of Cape Town -- a huge treasure trove of biodiversity .

Estimates vary, but about 1,500 to 2,200 of the CFR native species are endemic to Cape Town's iconic backdrop, Table Mountain, which gains its name from a 2-mile-long plateau over which clouds drop like a tablecloth.

To put the mountain's number of native plants in perspective, consider that California -- roughly one-third the size of South Africa -- has about 4,200 native species. How many of the California species are endemic is uncertain -- at least within our research. However, the Cape's voluminous number of endemic species, especially ones showing medical promise, is what gained it a World Heritage Site classification in 2004.

A Medicine Cabinet of Possibilities
The South African plant biodiversity figures are a statistical stunner. They can leave you feeling dazed, especially when you consider the health-giving possibilities of many of these plants. A 2012 study, published in the journal BMC Complementary and Alternative Medicine, reports that 3,000 of South Africa's native plant species are used as medicines in that country. The study focuses on the uses of various fynbos plants, including S. africana lutea, for treating microbial infections, including MRSA and tuberculosis.

The Zandvlei Trust, which manages one of the Western Cape's many nature preserves, notes that up to 80 percent of the nation's population "rely on herbal medicines for healthcare." Consequently, Western medical research is scurrying to explore the possibilities of these plants, especially for treating chronic illnesses.

Floristic Regions and Mediterranean Climates
Some refer to the CFR as a botanical 'kingdom.' Scientists divide the world into six floristic regions or kingdoms based on similarities within those areas concerning the types of plants they contain.

The largest of these kingdoms is the Boreal Floristic Region (BFR) encompassing North America, Europe, northern and central Asia, and North Africa. The smallest is South Africa's CFR, which has growing conditions remarkably similar to those in our tiny community of Elk on Northern California's Mendocino coast, even though we are part of the huge BFR. So parts of one floristic region may actually have growing conditions comparable to those in parts of another.

For example, there are five temperate areas of the world referred to as having a Mediterranean climate. These include Australia, Chile, the Mediterranean Basin, the Western Cape Province of South Africa and a stretch of North America from the top of Mexico's Baja Peninsula up along the California coast into parts of British Columbia.

Aside from many countries bordering the Mediterranean Sea, this mild climate is found on the coastal, western edges of continents. Although these areas generally occur at latitudes from 30 degrees to 40 degrees north or south of the equator, Vancouver, British Columbia, is sometimes referred to as having Mediterranean conditions despite being 49 degrees north.

Two major characteristics of Mediterranean climates are wet winters and dry summers, which describes the conditions at Flowers by the Sea with a latitude about 39 degrees north.

However, according to the Pacific Bulb Society, we receive just a little less moisture during our Northern Hemisphere summer than the Western Cape does during its Southern Hemisphere Summer. Plus, we share winter temperatures generally no lower than 40 degrees F. That is one reason why South African Salvias grow so well for us.
More Information
We talk more about fynbos Salvias in Part 2 of this post and touch on problems facing South African plants and wildlife. Meanwhile, click here for more information about African Salvias or contact us. We're glad to answer any questions you may have.
Updated 2/22/16
Revised on May 3, 2018 05:00 PM