Butterflies in the Garden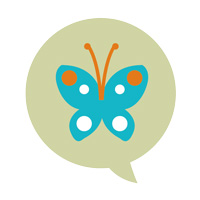 Butterflies are fluttering mosaics. The beauty of each one's wings comes from thousands of miniscule, overlapping scales in different colors. Yet butterflies bring more than their good looks to gardens; they are an important link in the chain of life. Their larvae are particularly important in feeding other small animals, including hummingbirds.
Salvias and companion plants are another part of this chain of beauty and sustenance. Adult butterflies thrive on the rich nectar of many sages (Salvia spp.). They lay eggs on other favorite host plants, such as Milkweeds (Asclepias spp.), that their baby caterpillars enjoy eating. The presence of butterflies in your garden indicates healthy habitat. In our articles about butterflies and their nighttime relatives, moths, we offer ideas for growing tasty habitat for winged visitors and for creating a mosaic of color in your garden.