Garden to Kitchen: Cooking and Baking with Sage
Oct 16, 2012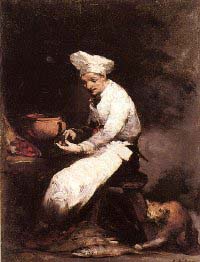 Come Thanksgiving, the fragrance of Common Sage (Salvia oficinalis) will waft across the nation as cooks rub it on turkey and fill the birds with stuffing rich in sausage made with sage.
Yet you don't have to be a meat eater to enjoy the wild, musky, minty aroma of Common Sage, which is also referred to as Culinary Sage. A quick gustatory tour of the Internet shows that America is adding sage to quick breads and yeast breads, omelettes, pastas including macaroni and cheese, pesto sauce, sweet potato gnocchi, soups, salads and vegetarian pizzas.
Sage is also making star appearances in fish and pork dishes. In these days of fashionable fusion cuisine, you can even find it in ice cream. Most of this culinary exploration involves fresh Sage, which is all the encouragement you may need to add culinary sages to your landscape.
A Flock of Culinary Uses
After falling in love with the flavor of Common Sage, Parisian Clotilde Dusoulier of the Chocolate & Zucchini website discovered that fresh supplies were hard to find. So she decided to grow her own on an apartment windowsill after chancing upon a small pot of S. officinalis at a sidewalk market.
To gain ideas for how to use her new treasure, Dusoulier posted " What do you like to do with sage?" on Twitter. She received a huge flock of answers, including freezing sage in ice cubes for summer drinks, baking it in pumpkin biscuits and wrapping leaves with feta cheese in prosciutto ham – a dish called involtini.
Culinary Sage often is added to fatty meats, such as pork sausage and turkey stuffing. Known historically as a digestive aid, it may help the body metabolize fats more comfortably. A recipe for pork sausage in Fine Cooking includes half a cup of chopped sage.
Another article in Eating Well includes directions for making chicken-apple sausage among a list of 22 recipes based on Culinary Sage. Eating Well uses the herb to liven up dishes including pork tenderloin, Brussels sprouts, flat bread, vegetable stew with herb dumplings, a potato-yeast bread flavored and decorated with herbal leaves and a cream of mushroom soup.
The Vegetarian Times offers a gluten-free sage cornbread prepared with buttermilk and a hint of honey. The Sally Bernstein website adds the flowers of a fruit-flavored sage to a pineapple pound cake.
At this point, you may want to stroll out to the garden with snips in hand to gather sage for dinner. However, if you don't have any culinary species in your yard, a trip to the supermarket for fresh sage will have to do. As you experiment with recipes, keep in mind that a little bit of sage goes a long way.
Also keep in mind that Flowers by the Sea is as focused on helping you create beautiful landscapes as we are on good cooking. Now is the time for last-minute autumn plantings and for planning spring additions to your Salvia garden. Here are some suggestions.
Types of Culinary Sage
One important fact about cooking and baking with Sage is not immediately apparent when researching online: You would need to dig deep to discover that there are many varieties of the woody perennial S. officinalis and that it isn't the only species of Salvia adding zest to meals.
But you don't need to dig, because Flowers by the Sea has done it for you. Here are the main kitchen varieties that we carry and the USDA plant hardiness zones for which we recommend them:
Zones 5 to 9
• Mountain Culinary Sage (S. officinalis 'Berggarten')
• Potent Culinary Sage (S. officinalis 'Extrakta')
• Variegated Golden Sage (S. officinalis 'Icterina')
• Purple Leaf Sage (S. officinalis 'Purpurea')
• Tricolor Culinary Sage (S. officinalis 'Tricolor')
Varying Zones

• Greek Sage (S. fruticosa), Zones 8 to 9
• Rusty Sage (S. lanceolata), Zones 8 to 11
• Italian Clary Sage (S. sclarea var. turkestanica 'Piemont'), Zones 7 to 10
Landscape Characteristics:
S. officinalis Species
Common Sage is native to parts of the Mediterranean, such as the Iberian peninsula of Spain and Portugal, Northern Africa and the Balkan countries, including Greece. In areas that are frost-free, it is an evergreen.
Taller than some of its varieties and shorter than others, Common Sage grows up and spreads out 2 to 2.5 feet. Its blue-to-lavender flowers bloom in June. It loves full sun and dry to medium moist soil, which can be shallow and/or rocky. So what are its offspring like aside from being powerfully aromatic and needing full sun and dry, well-drained soil similar to Common Sage?
Although it grows a bit taller and has a stronger flavor than Common Sage, Potent Culinary Sage looks much the same as its parent. It can reach up to 36 inches tall and 24 inches wide. The flower colors of S. officinalis 'Extrakta' range from lavender to rose and bloom from late spring to early summer. Similar to Common Sage, it has long, narrow, spear-shaped leaves.
In contrast, Mountain Culinary Sage has spikes of lavender-to-purple flowers that bloom throughout summer. S. officinalis 'Berggarten can be as short at 18 inches and may spread only 12 inches wide. The mounded form and large, oval-shaped leaves of Mountain Culinary Sage give it a soft look.
If you are looking for more dramatic foliage, Purple Leaf Sage is a good choice. So are Tricolor Culinary Sage and Variegated Golden Sage. All have flower spikes in varying shades of purplish blue and grow about 24 inches tall. The first one, S. officinalis purpurea, blooms from spring into early summer. It spreads about 36 inches wide while the other two reach out about 24 inches. Purple Leaf Sage has foliage shaped like that of Common Sage, but its leaves change from green to dusky purple on top.
Both the Tricolor Culinary and Variegated Golden sages have leaves outlined with contrasting colors. S. officinalis 'Tricolor' has forest-green leaves that are either white or a cool fuchsia pink around the margins. The foliage of S. officinalis 'Icterina,' has forest-green leaves edged with yellow.
Landscape Characteristics: Other Culinary Sages
Although members of the Salvia officinalis group are the primary sages referred to as culinary or kitchen herbs, it is Greek Sage that dominates sales of dried sage. S. oficinalis sages are tastier, but S. fruticosa is easier to grow. It comprises 50 to 95% of the commercial market.
In the garden, it provides a pleasant lavender fragrance and has spikes of pink-to-lavender flowers. Similar to most culinary sages, Greek Sage loves full sun and well-drained soil. However, it will tolerate moist ground. It grows 24 inches tall, but only spreads about 18 inches.
Of all the culinary sages, Rusty Sage has the most dramatic flowers and the longest bloom time. It has large, peach-to-rust flowers that provide color from spring until winter in warmer climates. They form a striking hot-to-cool contrast with silvery foliage. S. lanceolata grows up to nearly 7 feet high in its homeland of South Africa, where its leaves are used to season fish.
Finally, FBTS grows Italian Clary Sage, which is flavorful but best known for its history of medicinal use going back to the Greeks. Italian Clary Sage is also notable for being an herbaceous perennial instead of a woody species and for having the longest botanical name of the lot, similar to a princess. Although its royal highness S. sclarea var. turkestanica 'Piemont' is much smaller than Rusty Sage – only measuring 36 inches tall and wide – its plume-like spikes of rosy white flowers are equally showy.
Royalty and commoners alike, we have all the sages you need to add flavor and color to your life.
Plants mentioned in this article