New at FBTS: Two New Himalayan Salvias from Chris Chadwell
May 21, 2015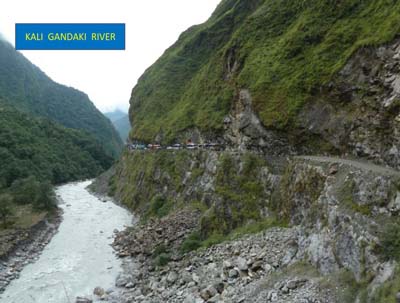 Yellow Salvias are rare, and so are professional plant explorers. Add to this list another rarity -- the availability online of high altitude, Himalayan plants grown from seed collected in the wild. We obtained our seed for two new Salvias from British botanist Chris Chadwell.
Based on Chadwell's notes and our experience so far growing these plants, we think both are forms of Campanula Leaf Sage (Salvia campanulata). If we are correct, they will have yellow blossoms. However, we can't be certain about their identification or any differences between the two forms until we have cultivated them for more than one growing season.
A Himalayan Adventure in Your Backyard
Chadwell is an independent plantsman who supports his treks and research by selling shares in the results of his expeditions. As a subscriber, we receive seed as well as notes and photos providing plant identification and other details about each trek. Sometimes Chadwell isn't able to definitively identify a plant, which is the case with one of the choices offered here.
It's important to note that although these plants are rare in the U.S., they are not endangered in the Himalayas. Chadwell emphasizes that he doesn't collect endangered species.
We're sharing these sages from his recent journeys with you while they are still in test mode. You can be an explorer in your own garden by growing one, or maybe both, of these plants in your yard. We hope you'll compare notes with us.
No Plant Tags in the Wild
Plant trekking isn't a leisurely activity. Botanists have to cover a lot of ground and identify plants rapidly in the field. Salvias in the wild don't come with plant tags, and their parentage isn't always 100 percent clear, especially among related species that cross readily.
Chadwell has identified one of our new plants from his 2014 trek to Nepal -- S. campanulata 'CC#7706' -- as clearly being a Campanula Leaf Sage. However, he is less certain about the other collection -- currently titled S. aff. campanulata 'CC#7473' -- which he collected in different growing conditions during his 2013 journey to Tibet.
CC stands for Chadwell's initials and aff. indicates that the species' ID isn't definite.
At our coastal farm, it's tricky growing seed from altitudes exceeding 10,000 feet. Much of the seed Chadwell sends us doesn't do well here. But we finally have a small crop of CC#7706 and CC#7473 that we love. They are vigorous and share such similar, beautifully heart-shaped foliage that it is difficult to see differences. None have bloomed as yet.
Campanula Leaf Sage Comparisons
Not only are we waiting for these new plants to reveal their true colors but we're also still looking for variations in other characteristics, such as size, appeal to pollinators and differences in shade tolerance.
Given the woodland setting where Chadwell found CC#7473, it likely will be a shade lover. In contrast, he discovered CC#7706 in an open setting, so it may be more sun tolerant.
For a number of years now, we've grown a third Campanula Leaf Sage from seed collected in China by another source. This plant grows about 24 inches tall and 36 inches wide, blooms in summer and attracts butterflies and honeybees, but not deer. In tolerates full shade as well as partial shade and grows well in USDA Plant Hardiness Zones 5 to 9.
In general, Campanula Leaf Sages thrive in shade and tolerate heat, cold and damp roots. We recommend these sturdy herbaceous perennials for shady borders and woodland-style gardens. Although bees and butterflies are likely to visit your garden for the nectar and pollen of these pretty sages, deer probably will pass them by.
An Uncertain Trekking Future in Nepal
Chadwell discovered CC#7706 in the Manaslu Range of Nepal at an elevation of 10,827 feet. Mount Manaslu is the eighth tallest peak in the world and rises up to about 26,782 feet. Overall, this region is referred to as the Manaslu Conservation Area. It's a preserve that the Nepalese government established in 1998.
Manaslu is northwest of Nepal's capitol, Katmandu. Earlier this year, two devastating earthquakes destroyed villages and trails in much of this financially poor region, which has been developing as a tourist destination in recent decades. The earthquakes killed thousands, caused a deadly avalanche at Mt. Everest and left Katmandu in rubble.
Chadwell, who has explored the Himalayas almost annually for more than 30 years, is deeply concerned for Nepal and for friends there who have aided his expeditions as guides and seed workers. (A lot of cleaning, sorting and packaging goes into the process of preparing seed for clients.)
During his fall 2014 expedition, the botanist and avid photographer gave his friend and co-worker Til Jung Rai a rare tool for that part of the world -- a digital camera that he taught Til Jung how to use. The camera, as well as Til Jung and his family, survived the disaster. Chadwell has posted some of Til Jung Rai's photos of the earthquake's aftermath at his website.
Chadwell treks annually for at least six weeks in autumn. Aside from running his business during the rest of the year, he presents talks throughout the U.K. and sometimes in the U.S. concerning his expeditions. He has announced his plan to contribute proceeds from lectures to Nepalese relief efforts. Please let him know if you would like to help arrange a speaking engagement. The last time he toured North America was in 2011 when he spoke to the New England branch of the American Primrose Society.
Here is a link if you are interested in purchasing a share in Chadwell's future expeditions.
Medical Research and Questions
Campanula Leaf Sage is a medicinal plant with roots that are used much the same as those of S. miltiorrhiza and other Dan-shen sages. Dan-shen historically has been a treatment for problems such as poor circulation and swelling. Nowadays, traditional Chinese medicine (TCM) practitioners also use it to treat heart disease.
As with all medicinal sages, please check with your physician before trying herbal remedies. Regarding questions about S. campanulata and other Asian or medicinal sages in the FBTS catalog, please call us or send an email. While we're glad to share what we know about their use in landscaping, we'll leave the medical advice to doctors.
Another Chadwell Find: Incarvillea arguta
Himalayan Gloxinia (Incarvillea arguta) is a pink gem. Chris Chadwell collected our seeds in Nepal previous to his 2014 trek. Its trumpet flowers with flared corollas contrast attractively with red-green stems and mid-green leaves with notched margins.
This is a water-loving Salvia companion that measures about 24 inches tall and 36 inches wide. It needs fertile loam and full sun to partial shade. A location with morning sun and afternoon shade would be ideal for this reliable understory plant that blooms summer to fall. Considering this plant's homeland, it's understandable that it prefers cooler nighttime temperatures during the heat of summer.
Plants mentioned in this article

Salvia campanulata
---