Pantone Pageant: Eye-Popping, Poppy Red Designer Salvias
First posted on May 27, 2013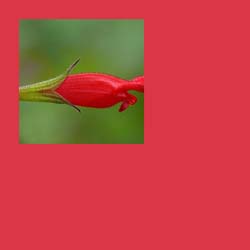 Here's a tip for Oz's Wicked Witch of the West: Pantone's spring 2013 Poppy Red is a designer color that won't make anyone sleep. It's a bright, wake-up call that is often found in the scarlet blossoms of many sages (Salvia spp.). We offer five eye-popping suggestions here for matching the Pantone Corporation's Poppy Red 17-1664.
Our list is organized according to sun requirements. The first plant needs full sun, which means more than six hours a day of direct light. In contrast, the last one in the list is most successful in a location providing partial shade all day, such as the dappled sunlight under a deciduous tree.
All of these Salvias need regular watering and some love an ample supply. As with most Salvias, they all require well-drained soil. Some grow as tall as 6 to 10 feet and make fine screens or background plantings. The shorter species are good choices for borders and edging pathways.
Choices from Sun to Shade
Cardinal Sage (Salvia fulgens) Zones 7 to 9.
Full sun only
Blooms fall to winter
48 to 60 inches tall, 35 inches wide
Yellow-green, heart-shaped leaves
Regular to ample watering
Mexican Chocolate Scarlet Sage (Salvia gesneriiflora 'Mole Poblano') Zones 8 to 11.
Full sun to partial shade
Blooms winter to spring
72 inches tall and wide
Pebbly, green-gold foliage
Regular watering
Karwinski's Sage (Salvia karwinskii) Zones 8 to 11.
Full sun to partial shade
Blooms fall to winter
96 to 120 inches tall, 28 inches wide
Large, pebbly foliage
Regular watering
Oaxaca Red Sage (Salvia adenophora) Zones 9 to 11.
Partial shade
Blooms fall into winter
36 to 48 inches tall, 36 inches wide
Bright green foliage
Needs ample watering
Blood Red Mexican Sage (Salvia univerticillata) Zones 9 to 11.
Partial shade
Blooms spring to fall and winter in some regions
48 to 60 inches tall, 60 inches wide
Bright green, heavily veined leaves
Regular to ample watering
Days in Hummingbird Heaven
Be prepared for whir of tiny wings when you plant these Salvias. It's well known that hummingbirds are attracted to red. These important pollinators have little sense of smell, but are attracted to tubular flowers in deep, bright colors -- especially Salvias -- because they are wells of sweet nectar.
We spend our days in hummingbird heaven, because we grow what we sell. Write or give us a call whether you want to develop hummingbird habitat or select just the right color of sage for your backyard Emerald City. We're generous about sharing tips, even with that no-good, rotten, ruby-slipper-obsessed Wicked Witch.
Plants mentioned in this article